Companion of the liberation military units
Eighteen military units are Companions of the Liberation. Nine were in the Army, six in the Air force and three in the Navy of the Free French Forces. They received the Cross of Liberation for their collective commitment from the early days of Free France and for their outstanding acts in combat. Today, the members of these units wear the fourragère (a braided cord) of the Order of Liberation.
La fourragère de l'Ordre de la Libération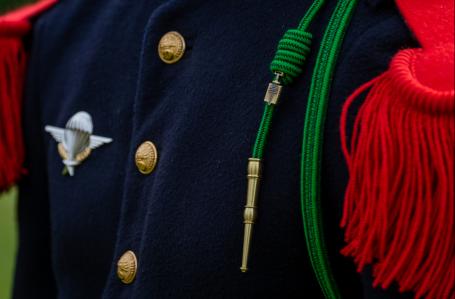 Sur décision de Monsieur Jacques Chirac, président de la République, un arrêté du 23 février 1996 du ministre de la Défense a créé la fourragère de l'Ordre de la Libération destinée à pérenniser l'Ordre de la Libération et à préserver de l'oubli le souvenir des Compagnons de la Libération.
Le 18 juin 1996, au Mont Valérien, lors de la cérémonie traditionnelle commémorant l'appel du 18 juin 1940, le président de la République a remis aux chefs de corps des 17 unités Compagnon de la Libération (ou héritières du patrimoine d'unités Compagnon) la fourragère aux couleurs noir et vert de l'Ordre de la Libération.
La fourragère se compose d'un cordon rond partiellement natté à trois brins, terminé par un nœud et un ferret. Noire (pour marquer le deuil de la France ; défaite de 1940 et occupation) et verte (pour symboliser l'espoir de la Libération), elle est portée autour du bras gauche et se fixe sur l'épaule par un bouton doré.
Ont droit au port de cette fourragère tous les membres des unités militaires concernées ainsi que trois exceptions : depuis 2011 les membres d'équipage du porte avion Charles de Gaulle, depuis 2018 les personnels militaires de la DGSE et depuis 2019 les élèves officiers de première année de l'École de l'Air.