The French Navy
Free France's naval arm – the Free French Naval Forces (FAFL) – was created on 1 July 1940. For exceptional feats in action, three of its units, two vessels and the First Regiment of Fusiliers Marins received the Cross of Liberation.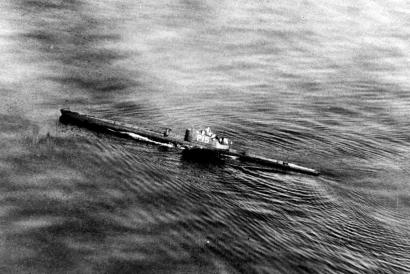 The Rubis was a minelaying submarine in the Saphir series, capable of carrying 32 mines and torpedoes. It entered into active service in April 1933 and measured 60 meters long, 7 meters wide and 8 meters high on a flat bottom. It was based in Cherbourg then Bizerte when war was declared in 1939.
In April 1940, Denmark and Norway were invaded by Nazi German troops; on May 1, 1940, Rubis was placed under the orders of British Admiralty. After returning from a mission in Norway on June 12, it returned to its base in Dundee, Scotland before heading back out to lay 32 mines in the Trondheim Canal, Norway. It passed under a German destroyer on patrol at the entrance to the fjord. A submarine chaser hit one of the mines several days later. It racked up victories, sinking six ships and damaging one.
It returned to Dundee on June 30, as the French-German armistice came into force 5 days later. While the British capture of French ships began as part of Operation Catapult, which aimed to ensure that the French fleet would not be used by Axis forces – using force, if required –, Rubis crew members, in light of services rendered, were particularly well treated. Its support for Free France was largely the work of its commander, Lieutenant-Commander Cabanier who had commanded it since 1938.
Cabanier spoke at length with his men and clearly explained the situation to them, allowing each of them to make their own choice. Despite the events of Mers el-Kebir, the crew of Rubis chose to serve Free France. As of mid-July, almost all crew members chose to enlist in the Free French Naval Forces (FNFL). It is striking that, out of 50 crew members, 45 signed a pledge to Free France and 31 of them remained on the ship throughout the war.
Rubis was a minelaying vessel; almost all of its victories were a direct result of mines. It laid almost 700 mines throughout the duration of the conflict. It also carried out other types of missions, such as disembarking an agent in Norway and taking part in the plan to intercept the Tirpitz. In September 1940, it carried out a patrol mission in the North Sea, followed by the Norwegian coast in October. In December, it was put out of action until May 1941 while it was careened. On its return, Commander Cabanier was replaced by Second Officer Lieutenant-Commander Rousselot.
On June 1, it set off on a three-week patrol in the Bay of Biscay and returned to sea in early August 1941 after further repairs. The submersible was then tasked with mining access to canals providing access to Egersund, Norway. Once it had completed its task, it torpedoed and sank a 4,000-ton cargo ship. However, it also sustained damage in the attack and was required to return to Dundee on August 25 on the surface, exposed to the Germans, and under the protection of the Royal Air Force (RAF).
On October 14, 1941, General de Gaulle awarded it the Cross of Liberation with the following citation: "A ship that never failed to serve France in the war since hostilities began, and whose General staff and crew demonstrated the finest warlike qualities by accomplishing numerous and perilous missions in enemy waters. It inflicted severe losses on German sea transport. Very seriously damaged during an attack, it managed to return to base while crossing a very dangerous minefield thanks to the extraordinary efforts of its crew".
Once repaired, Rubis set off on new minelaying missions in the Bay of Biscay. It carried out five minelaying missions from April to late September 1942, but was required to return to base for repairs which put it out of action until May 1943. A series of missions followed: minelaying off the coast of Biscarosse, near Ile de Sein, and to the north of Bayonne and Arcachon.
The submarine underwent further repairs from October 1943 to February 1944, before resuming a lengthy period of training. The submersible resumed its war operations along the Norwegian coast in September 1944. It was required to lay mines in a specific area close to Stavanger. Mines were laid with great precision: two cargo ships and two submarine chasers hit them, immobilizing all traffic in the area. It was careened from December 29, 1944 to June 1945.
During the conflict, the Rubis submarine carried out 28 missions and laid 683 mines. Its actions sank 18 merchant and war ships and damaged 2, without mentioning the disruption caused to the enemy, who had to carry out dredging operations as a result. It had 8 Companions of the Liberation in its crew. Its career came to an end in 1948. It was spared from the scrapheap and was instead submerged off the coast of Cap Camarat, between Saint-Tropez and Cavalaire, in 1958.
Rubis, the first nuclear attack submarine (SNA) operated by the French Navy, has carried on the traditions of its glorious predecessor since 1983. As such, it is entitled to wear the fourragère in the colors of the Order of the Liberation.
Companion of the Liberation - Decree of October 14, 1941

Croix de Guerre 1939-1945 (3 palms)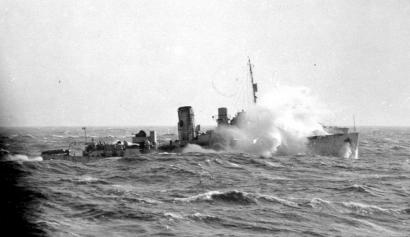 The French corvette Aconit was one of nine corvettes (small warships) given to the Free French Naval Forces by British Admiralty. Built in Troon, Scotland by Ailsa Shipbuilding, the ship and its sixty or so men were placed under the command of Lieutenant-Commander Jean Levasseur in July 1941.
With 2800-horsepower and a speed of 16 knots, its features were very similar to that of whaler-type ships. Aconit set sail for the first time on July 22, 1941 and was posted to the Clyde Escort Group (September to October 1941) at the end of its training period, then to the Newfoundland Forces. It played a very active role in the Battle of the Atlantic for over two and a half years. It provided protection to convoys transporting weapons and supplies from Canada to the British Isles. As part of this role, it escorted convoys between Great Britain and Iceland (September 3 to October 10, 1941) and also between Newfoundland and Iceland (October 19 to December 18, 1941).
It carried out its first attack against a German submarine on November 2, 1941 before taking part in the operation to rally Saint-Pierre-et-Miquelon to Free France later that same year (December 10-27, 1941). Further escort missions followed between Newfoundland and Iceland, then the United Kingdom. This was a permanent task that was only interrupted when a second trip to Saint-Pierre-et-Miquelon (June 20-22, 1942) and careening in Glasgow (July 14 to September 3, 1942) became necessary.
Several days later on September 12, Aconit helped escort two merchant ships to the coast of Cap Finistère, followed by three oil tankers traveling from Gibraltar to England, ending its task on September 21. After a general training exercise, the Aconit, now attached to the B3 Escort Group within Clyde Escort Forces (where it stayed until May 2, 1944), returned to its role protecting convoys.
It achieved its biggest accomplishment over the months that followed: the destruction of two German submarines in less than 12 hours. On March 11, 1943 at 1.35 am, the corvette was escorting a six-ship convoy when it rammed and sank a German U-444 submarine. That same day, at around 1 pm, after coming to the rescue of British destroyer, Harvester, it attacked the U-432 with grenades and its deck gun, also causing it to sink. It collected around 30 English survivors from Harvester and 20 German prisoners from the U-432, including the second officer and 4 prisoners from the U-444.
THE CREW OF ACONIT
Aconit underwent repairs in Glasgow from March 18 to April 10, 1943 to treat damage caused to its bow when it rammed the U-444. General de Gaulle awarded the Cross of Liberation to Aconit and Commander Levasseur on April 21, in Greenock. It then underwent significant repairs in New Orleans (September 1 to October 10, 1943). Upon leaving its command, Jean Levasseur addressed Aconit's crew by signing the following statement: "I am leaving you after being your commander for twenty-six months. During this long period, Aconit has represented the French Navy in the good fight without ever weakening it. Thanks to your outstanding enthusiasm, the French flag flew victoriously during the Battle of the Atlantic. French corvettes have always served as an example of duty and self-sacrifice. Their military valor is admired by all. Among them, Aconit shone with the soft glow of glory. Goodbye to you all. I hope that the formidable bow of the Aconit will appear once more along the coastlines of France as soon as possible."
Lieutenant-Commander Le Millier took command of the corvette, which resumed its duties in the Battle of the Atlantic; on December 31, 1943, it launched three attacks on a German submarine before spending the first three months of 1944 on various missions (Casablanca, Gibraltar). Assigned to U Force in preparations for the Normandy landings, the corvette was moored in Torbay on June 2, where the U3 convoy was being prepared; it set sail toward the French coast on June 5 and had various interactions with German aircraft in the days that followed.
During operations in Normandy and up until July 31, 1944, it was attached to 108e groupe d'escorte, which included ships Aventure, Escarmouche and Renoncule. As of August 1, 1944, Aconit was moored in the port of Milford Haven, but continued to take part in a range of escort operations. On April 11, 1945, it carried out its final depth charge.
On April 18, the corvette's boiler rooms were cleaned in Milford Haven, where it stayed until May 8. Aconit continued to escort convoys throughout May. By June 5, 1945 – the official end date of its naval operations in European waters – it had escorted a total of 116 convoys and 2,750 ships, spent 728 days at sea, and traveled 147,101 nautical miles. After completing an LCT escort mission between Cherbourg and Bordeaux during the summer of 1945, Aconit was assigned to the École navale; as such, the corvette completed training sorties for cadets from the École navale and École des EOR, a service which was disrupted by extensive careening carried out from November 15, 1945 to February 15, 1946.
The corvette received many decorations, above all to reward its actions of March 1943. It was awarded the Cross of Liberation, Croix de Guerre 1939-1945, and the French Resistance Medal. It was also included in an announcement made by British Admiralty. Aconit was returned to the British Navy on April 30, 1947. Today, the Aconit frigate is part of the French Navy and carries on the traditions of its glorious predecessor, entitling it to wear the colors of the Order of the Liberation.
Companion of the Liberation - Decree of April 19, 1943

Croix de Guerre 1939-1945 (2 palms)

French Resistance Medal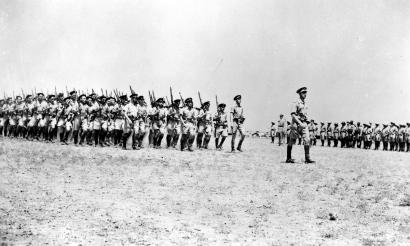 1ER BATAILLON DE FUSILIERS MARINS
On July 5, 1940, Admiral Muselier, appointed by General de Gaulle as commander of the Free French Naval Forces, decided to establish a unit of marines. The arrival of instructors and cadets from the Ecole des fusiliers marins de Lorient in late June 1940, in London, facilitated this decision. Among them, Master Rifleman Le Goffic  who brought with him the fourragère from the Dixmude flag, and riflemen Colmay, Le Sant, Guaffi, Rey, Frémeaux, Przybylski, and Roger.
Despite low troop numbers and the urgent need to complete the crews of the ships who had rallied to Free France, 1er Bataillon de fusiliers marins (1er BFM) was formed aboard the Courbet battleship on July 17, in Portsmouth, under the orders of Lieutenant-Commander Détroyat. The crew consisted of approximately 250 men, including officers, among which featured sub-lieutenants des Moutis, Amyot d'Inville, Touchaleaume, and Le Bourgeois.
After several months of training at Camp Aldershot, the battalion left Liverpool and set sail for Dakar (Operation Menace) in order to rally French West Africa to Free France. The plan failed and 1er BFM arrived in Douala, Cameroon before actively taking part in operations to rally Gabon, and in the Capture of Lambaréné in November 1940.
The unit then coordinated the defense of Port-Gentil and Brazzaville in the Congo, taking charge of the area's general administration as well as the raising and training of troops for Free France. On April 23, 1941, at the end of a long journey which required them to travel around Africa, the battalion arrived at Camp Qastina, Palestine where Free French ground units were gathered and preparing to enter Syria alongside British forces. As of June 13, 1er BFM took part in operations until the Capture of Damascus on June 20. Many lives were lost: 40% of the deployed crew and Commander Détroyat were killed (he was replaced by Lieutenant-Commander des Moutis), and Amyot d'Inville and Touchaleaume were injured.
Promoted to Lieutenant-Commander, Amyot d'Inville took over command of the battalion, which he changed to a DCA unit, initially equipped with material recovered in Syria, then with Bofors guns. As such, the battalion was tasked with aerial defense of General Koenig's 1ère Brigade française libre, incorporated into the British Eighth Army.
The battalion took part in all of the brigade's battles in the deserts of Libya and Egypt: Halfaya (January 1942), Bir-Hakeim (May to June 1942), El Alamein (October 1942). Over the course of two weeks of solid fighting in Bir-Hakeim from May 27 to June 11, 1942, marines fired 47,200 DCA shells at enemy planes, shot down 7 German planes and destroyed many of Afrika Korps' vehicles. Following the forceful departure from Bir-Hakeim, the battalion fell back to El Daba before a period of rest in Cairo. 1er BFM received a citation from the French Army, while Hubert Amyot d'Inville and Sub-Lieutenant Pierre Lehlé were awarded the Cross of Liberation.
In late October, the battalion took up position to the far south of the El Alamein line with 1st Free French Division, tasked with launching a "diversion" attack on the Himeimat massif opposite; during the operation, the infantry ventured into an area where neither the antitank guns nor the armored vehicles could provide assistance, resulting in heavy losses. At the end of the battle won by the Allies, the battalion provided aerial cover to 1ère DFL as Afrika Korps was pursued, which came to end with the Liberation of Tunisia in May 1943.
1ER RÉGIMENT DE FUSILIERS MARINS
On September 24, 1943, 1er BFM's numbers grew following the arrival of volunteers from naval corps in North Africa (particularly radio specialists and mechanics), and it became 1er Régiment de fusiliers marins (1er RFM), an armored reconnaissance unit within 1ère DFL under the command of Lieutenant-Commander Amyot d'Inville.
Replenished with American equipment, it was made up of 885 men, including 30 officers distributed across four combat squadrons commanded by Barberot, Savary, Brasseur-Kermadec, Langlois and Cadéac d'Arbaud respectively, as well as a headquarters squadron commanded by Sekutowitch.
On April 22, 1944, following a sustained period of training, 1er RFM arrived in Naples as part of 1ère DFL and was incorporated into the battle plan, which, as of May 12, intended to break through the German front which barricaded all of Italy from the south of Rome. Following fierce fighting on the Garigliano River, RFM – which formed the division's advance guard over three approaches – fought brilliantly at Montefiascone and Radicofani. 61 of its men were killed, including Amyot d'Inville, and 140 were injured.
On August 16, 1944, under the command of Lieutenant-Commander de Morsier, the regiment arrived in Cavalaire, Provence at the head of 1ère DFL. Following battles to liberate Toulon and Hyères, the unit pursued its advance through the Rhône Valley and reached Lyon, evacuated by German troops, followed by Autun, where the Savary Squadron arrived after a fierce clash during which five men were killed and four injured. During that time in Côte d'Or, Savary provided liaison with units in 2e DB (Leclerc) that had arrived in Normandy. RFM pursued its advance toward Vosges.
On September 27, the tank squadron led an attack on Clairegoutte before taking Ronchamp on October 8, followed by Vescemont, Rougegoutte, Romagny and Rougemont-le Château in November. The following men stood out during the operations: Sub-Lieutenant Bokanowski, the Aspirant Vasseur, and the men of 11e Cuir-Vercors who were placed under the orders of 1er RFM alongside the marines.
Following the Vosges Campaign, 1ère DFL was posted to the Atlantic Front to reduce the Royan pocket, but was urgently called back to the Eastern Front to tackle von Rundstedt's German offensive in December 1944. In January 1945, the marines stood out once again in Herbsheim and Rossfeld, Alsace before pursuing their victorious advance toward the Rhine. Withdrawn from the front in Alsace, the division was assigned to the Army of the Alps detachment in April 1945, in the Authion massif where 1er escadron stood out, losing 5 out of 6 officers and over half of its deployed personnel in the offensive.
Between October 1940 and May 1945, 1er BFM/1er RFM lost 195 men between them, of which 12 were officers, including 2 of its commanders. 200 Croix de Guerre, 70 Military Medals, 32 Legions of Honor, and 31 Crosses of Liberation were awarded to its men. Among the fallen, deck hand engineer Georges Brière, killed in Giromagny, was chosen to be buried in tomb no.8 of the crypt at the Memorial of Fighting France in Mont Valérien, where he represents the sacrifice made by all of the marines who died for the Liberation of France.
1er RFM's flag features 5 Army citations obtained during 1939-1945 with the addition of the Cross of Liberation, the French Resistance Medal and the Croix de Guerre. In August 1945, 1er RFM was reassigned to the naval authorities. Today, the flag, the memory and the traditions of 1er Régiment de fusiliers marins are entrusted to the Ecole des fusiliers de Lorient.
Cross of Liberation - Decree of June 12, 1945

Croix de Guerre 1939-1945 (5 palms)

French Resistance Medal with rosette