Prices, Access and opening hours
Chers visiteurs,
Voici les consignes sanitaires à respecter pour accéder au musée :
    Respect des gestes barrières
    Mise à disposition de gel hydro alcoolique au sein des espaces du musée
 Notre équipe est à votre disposition pour préparer au mieux votre visite et répondre à vos questions : mediation@ordredelaliberation.fr
The museum is open daily
FROM 1 APRIL TO 31 OCTOBER 10 A.M. TO 6 P.M.
Evening openings: Tuesdays, from April to September until 8 p.m.
FROM 1 NOVEMBER TO 31 MARCH 10 A.M. TO 5 P.M.
Closed on New Year's Day, 1 May and Christmas Day
Ticket office closes 30 minutes before closing time
During the Christmas and winter holidays, the museum is open until 5:30 p.m.
COMBINED TICKET FOR ADMISSION TO THE WHOLE INVALIDES SITE 
Museum of the Order of Liberation 

Army Museum – Emperor's tomb – de Gaulle historial 

Museum of Relief Maps
FULL PRICE €12
CONCESSION €10
Veterans
SNCF "Famille nombreuse" (large family) card
Groups, minimum 10 people, booking required
Holders of the Paris Visite Pass, card and valid coupon
Military reservists, on presentation of their military identity card
FREE ADMISSION
EU nationals or residents under the age of 26
Under 18s
"Pass Education" card holders
Job seekers residing in the EU
Social welfare recipients (with documentary proof dated less than 3 months earlier)
Disabled visitors and one companion per disabled person
Journalists residing in the European Union
ICOM and ICOMOS members
Civilian personnel of the Ministry of the Armed Forces
French military personnel
Foreign military personnel (in uniform)
Members of the Association des Amis du Musée de l'Ordre de la Libération
Members of the Société des Amis du Musée de l'Armée
GUIDED TOUR PRICES (min. 10 PEOPLE)
Adults – €8 per person
Single admission to the Museum of the Order of Liberation
School and after-school groups – €55 per group
Single admission to the Museum of the Order of Liberation
Bookings required: via the booking form or phone +33 (0)1 80 05 90 81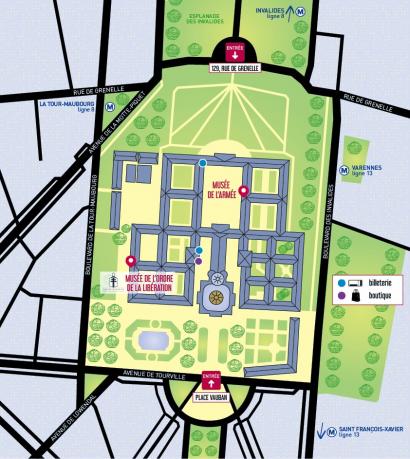 South entrance Place Vauban recommended.
SOUTH – PLACE VAUBAN, PARIS 7TH

  - Line 8 of the Paris metro – La Tour-Maubourg (300 m away)

  - Line 13 of the Paris metro – Saint François-Xavier (350 m away)
AU NORD - esplanade des Invalides, 129 rue de Grenelle, Paris 7e

  - La Tour-Maubourg (à 200 m)

  - Varenne (à 400 m)

  - Invalides (800 m)
Parking sous l'esplanade des Invalides
Bus 28, 49, 63, 69, 82, 83, 92, 93
Accessibilité
Le musée est accessible par l'accueil nord aux personnes à mobilité réduite.
Information 
Visitor department: +33 (0)1 80 05 90 81 – contact form