Grenoble
Grenoble received the Cross of the Liberation on May 4, 1944.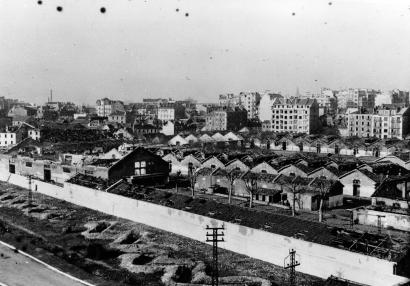 Located in the unoccupied part of France, and therefore under the control of the Vichy administration, the city of Grenoble developed rapidly following the armistice of June 1940 as a number of its citizens chose to join ranks with pockets of French Resistance fighters.
In late 1941, local branches of movements such as Combat (the result of Henri Frenay's National Liberation Movement (MLN) joining forces with François de Menthon's Liberté movement) and Free Fighters (led in Grenoble by Léon Martin, Eugène Chavant, Aimé Pupin and Jean Perrot) took root in Grenoble. It was also in Grenoble that Frenay and Menthon decided to join forces to form Combat in late November 1941, in an apartment belonging to Marie Reynouard, a teacher at the high school in Stendhal and a member of the MLN.
Created in the spring of 1941, the National Front movement for French liberation and independence, initiated by the underground French Communist Party, was also established in Grenoble. The movement produced the French Resistance newspaper, Les Allobroges, locally as of March 1942. Meanwhile, a small fraction of the Armistice Army, led by Captain Louis Nal via the Materiel Concealment Office (CDM), was secretly preparing to resume combat, concealing equipment and tons of ammunition in bunkers at the Polygon.
At the same time, the Vichy authorities, who were detaining communist activists and officials at Fort Barraux detention center in November 1940, hardened their position on French Resistance fighters in Grenoble, arresting and convicting them. Vichy also developed its collaboration policy with Germany, marked by its move to arrest foreign Jews on August 26, 1942. In turn, the people of Grenoble displayed their patriotism by holding several large-scale demonstrations on July 14, September 20, and November 11, 1942.
The University of Grenoble provided sustained support to the French Resistance through its professors, with several of its services manufacturing forged identity papers, as such transforming young people subject to the Compulsory Work Service (STO) into perfect students, as of late 1942. In November 1942, the city was occupied by the Italians. Led by the local Free Fighters group, a maquis – a rural guerilla band of French Resistance fighters – was established during this same period in nearby Vercors, thanks to the gradual inflow of STO recusants. The band went on to become a symbol of the French Resistance.
In September 1943, the Germans replaced the Italians, marking the start of the 'real' occupation of France. As such, the French Resistance began focusing the majority of its efforts on training and arming STO recusants, who gradually went on to join maquis positioned in the forests and mountains surrounding Grenoble. Receiving gradual instruction, the Groupes Francs of the Unified Movements of the Resistance (MUR) also sprang into action, destroying power lines and transformers, removing the local STO file and stealing numerous stockpiles of explosives. At the same time, on November 11, 1943, despite injunctions put in place by the Vichy Government, a large-scale strike and demonstration took place in front of the local offices of the collaboration. 600 protesters were arrested and almost 400 of them deported. Aimé Requet, who went on to become leader of the Groupes Francs and was second-in-command to Captain Nal, blew up artillery at the Polygon on November 13 in a bid to destroy arms belonging to German troops, causing a violent psychological shock among the enemy and population.
In a blow-for-blow response, the occupying forces intensified their crackdown by carrying out arrests and assassinations affecting many resistance fighters, in what has been dubbed "Grenoble's St. Bartholomew's Day Massacre". However, on December 2, 1943, the Germans' new arsenal at the Bonne barracks also exploded thanks to action taken by Groupes Francs, assisted by Aloyzi Kospicki, a Polish man enlisted in the Wehrmacht. Industrial and rail sabotage began to increase.
In early 1944, the Département-level Committee for Liberation of Isère was formed.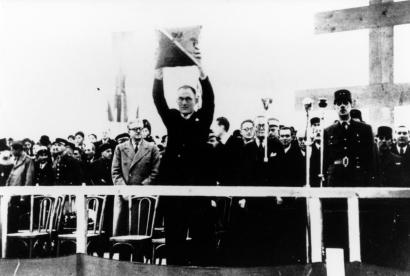 "The words that the Mayor of Grenoble has just spoken on behalf of the entire population of our great city express how we are all feeling in a strong and moving way; and I would add that these feelings are the same ones that the whole of France is currently experiencing during this period we are in. SPEECH BY GENERAL DE GAULLE ON NOVEMBER 5, 1944 IN GRENOBLE
Grenoble, now liberated; what misfortunes, what trials this great city has gone through, not only material, but moral, and these moral trials, were they not the hardest to endure? Grenoble has coped with it all, but at no time did Grenoble – and who knows better than he who has the honor of talking to the city? – at no time did it renounce itself, renounce freedom, hope, or the homeland. So, as soon as it could, Grenoble, by its own means, emerged free, under the brilliant sun, to surrender itself to France as France wanted it to be, that is to say proud and free of the enemy.
It is for these reasons that the Government of the Republic decided to award the city of Grenoble the title and the eminent quality of Companion of the Liberation in late 1943. The insignia will be presented to the city shortly.
But since this glorious ceremony brings us all together today, I would be remiss if I did not express in two words the feelings we were talking about earlier, that carry France to its goal: first, France wants to conquer because it needs to conquer, it wants the enemy who has outraged it, invaded it, laid it once again at death's door, to be slaughtered, this time fatally, so that it, France, can live. Our armies, our glorious armies, the one that came from the Empire, and the one that sprang spontaneously from our national soil to form one, single, great army, the indivisible French Army – this army must go beyond the Rhine, once again, to spell out the law of freedom to the enemy.
But what if we had added just one more military victory to all those that form our past, and if we did not know, both internally and externally, how to take from it what we need so that this victory, in the very least, serves a purpose?
Externally, we must know how to reap the benefits and ensure that the tragedy that almost overwhelmed us once more will not happen again, that France is protected in such a way that no one can harm it, overthrow it or aim at us in the heart. It is also vital to establish clear, powerful and firm solidarity in the world, with true friends, so that the enemy does not return.
Internally, we need to make huge efforts together. Is there anyone who is not deeply affected? We must rebuild France on a national scale, build a new France, in terms of its political institutions, so that the government running this country does not become paralyzed by the way it uses its executive, legislative and judicial powers, which constitute the State's powers. Is it not true that France must also take on a new form, in terms of the development of our great, rich country, the immense empire that we have, and which requires the deep resources of the French youth in order for it to be reborn.
We must all commit to an economic rebirth, together, on our soil, deep down in our soil, and lastly a social rebirth, and I cannot sum it up in any other way than by saying: is it not true that a fraction of the French nation cannot continue to feel like foreigners in the nation? We must ensure without limitation that all French people, all those born on our soil, are integrated into our homeland, and treated equally. Is it not the truth that we want to do this? And to do this, we want to ensure that all French people can live, lift their heads, raise their families, and work safely and with dignity.
You see, this is what we need to know in order to create a truly united France, worthy of the ideals that it has always delivered and wants to deliver again, and capable of achieving the great work that everyone expects. And it is in this way, fraternally, with effort, and as the crowning achievement of our sacrifices, that the people of Grenoble together with all French people in all our cities and villages, will restore France. Long live France!"
"Heroic city at the vanguard of the French Resistance and the fight for liberation. Draped in its pride, handed over to the Germans, despite its suffering and loss, despite the arrest and massacre of the very best of its men, a relentless fight at every turn. Confronting the prohibitions made by the invaders and their accomplices, demonstrated on November 11, 1943, its certainty of victory and willingness to take part in it. On November 14 and December 2, 1943, it responded to reprisals and executions of the leaders of the Resistance movements by destroying the ammunition store, barracks, power transformers and factories used by the enemy. Has served the homeland well." (Grenoble, Companion of the Liberation by decree of May 4, 1944).
(Grenoble, Compagnon de la Libération par décret du 4 mai 1944).