Admission to the order
Now discontinued, the Order of Liberation was established by General de Gaulle on 16 November 1940. Presented to 1,038 women and men, the Cross of Liberation was awarded according to a well-defined procedure and criteria.
"This Order is intended to reward civilian and military communities or individuals who distinguish themselves in efforts to liberate France and the French Empire." Ruling No. 7 of November 1940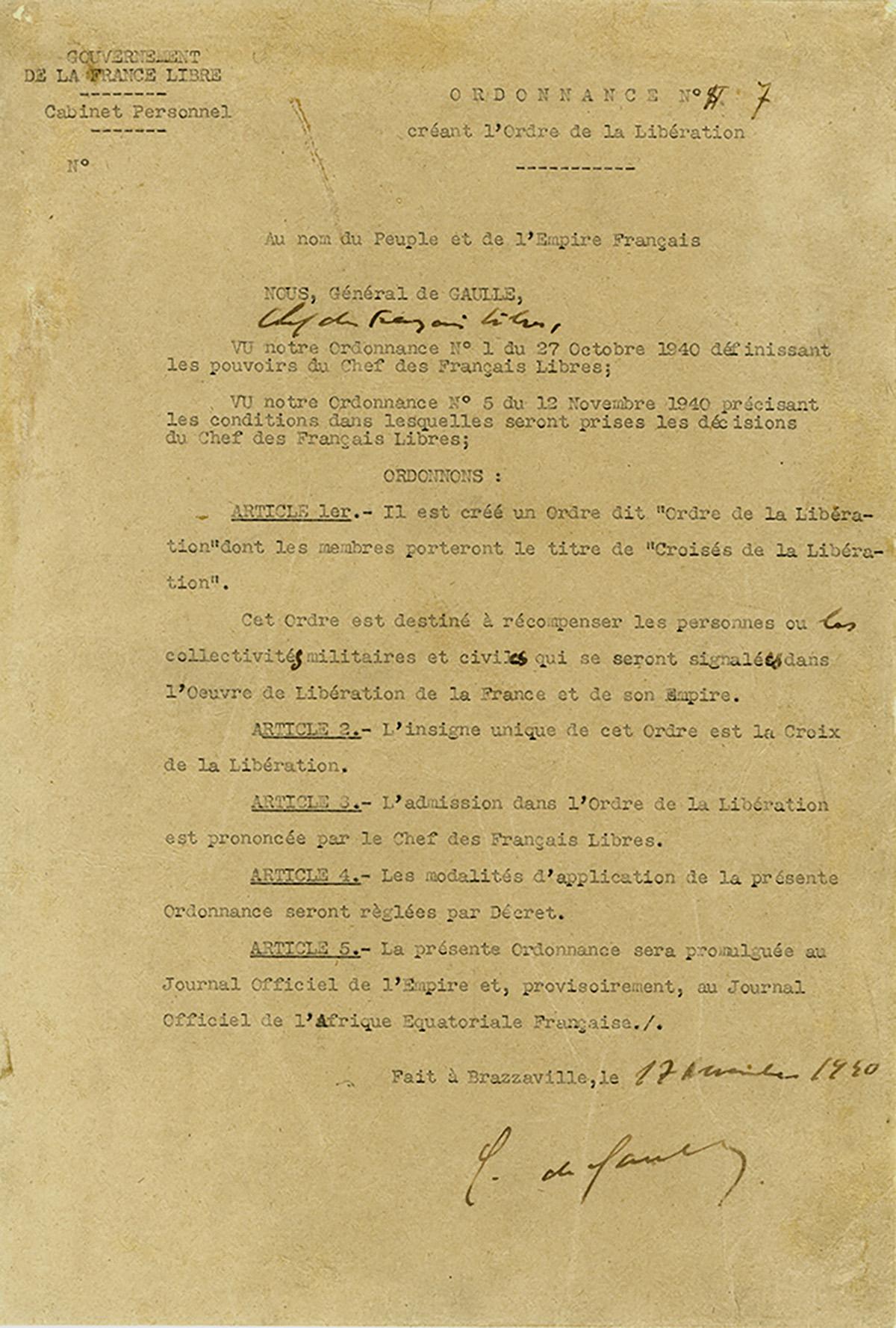 Ruling No. 7 of 17 November 1940 creating the Order of Liberation
©Musée de l'Ordre de la Libération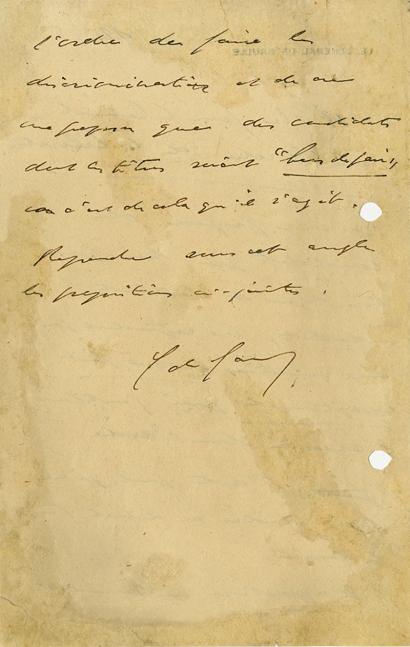 Age, gender, rank, background and even nationality were not qualifying criteria. Valour is what counted as was the outstanding quality of services rendered, which did not exclusively mean in combat.
The Order became a reality with the nomination of the first Companions. On 29 January 1941, five people formed the Order's first Council:
Ship-of-the-line captain Thierry d'Argenlieu,

Governor-General Félix Éboué,

Lieutenant Emmanuel d'Harcourt,

Merchant navy officer Edmond Popieul,

Warrant officer second class Henry Bouquillard of the Free French Air Force.
A monk, a Guyanese, a noble, a navy officer, a non-commissioned officer, etc., all represent the fighters united by General de Gaulle to liberate France. No distinctions were made as to class or background.
A handwritten note by General de Gaulle dated 3 December 1945 illustrated the exceptional nature of receiving a Cross of Liberation. The general wrote: "I am receiving recommendations for candidates who, although very worthy and valiant fighters, do not meet the criterion of being highly exceptional which would justify admission to the Order."
1,036 individuals, 5 communes and 18 combat units were awarded this prestigious decoration between January 1941 and January 1946.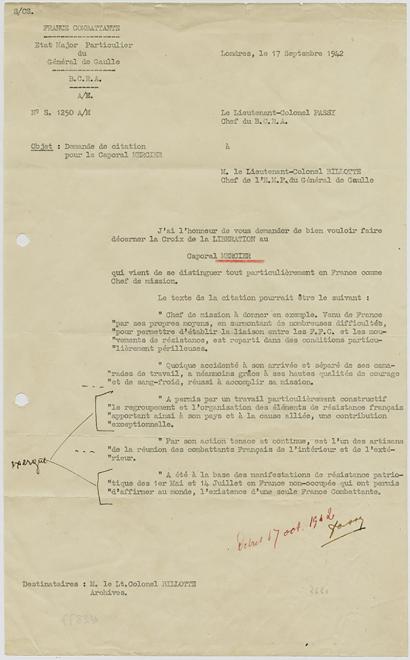 Nominations for the Order of Liberation occurred by order of General de Gaulle.
Other than for the first nominations, which were made by General de Gaulle himself, the procedure began with proposal briefs prepared by commanding officers (or network leaders), which worked their way up the chain of command, then being submitted for approval to the Council of the Order of Liberation before being signed by General de Gaulle.
Until late 1944, the qualifying criteria for the Cross of Liberation were further subject to the conditions imposed by the occupation and secrecy. For this reason, the decoration was often awarded under aliases or war names. This was the case for Jean Moulin, for example, who was made a Companion of the Liberation on 17 October 1942, under the name "Caporal Mercier" (Corporal Mercier).
In January 1946, General de Gaulle stepped down and signed a decree that put an end to awarding further Crosses of Liberation (Decree of 23 January 1946). As the aim of liberation had been achieved, the Order was discontinued.
It would only be reopened by its Grand Master on two special occasions, in 1958 for Winston Churchill and in 1960 for King George VI of England, to be awarded posthumously.